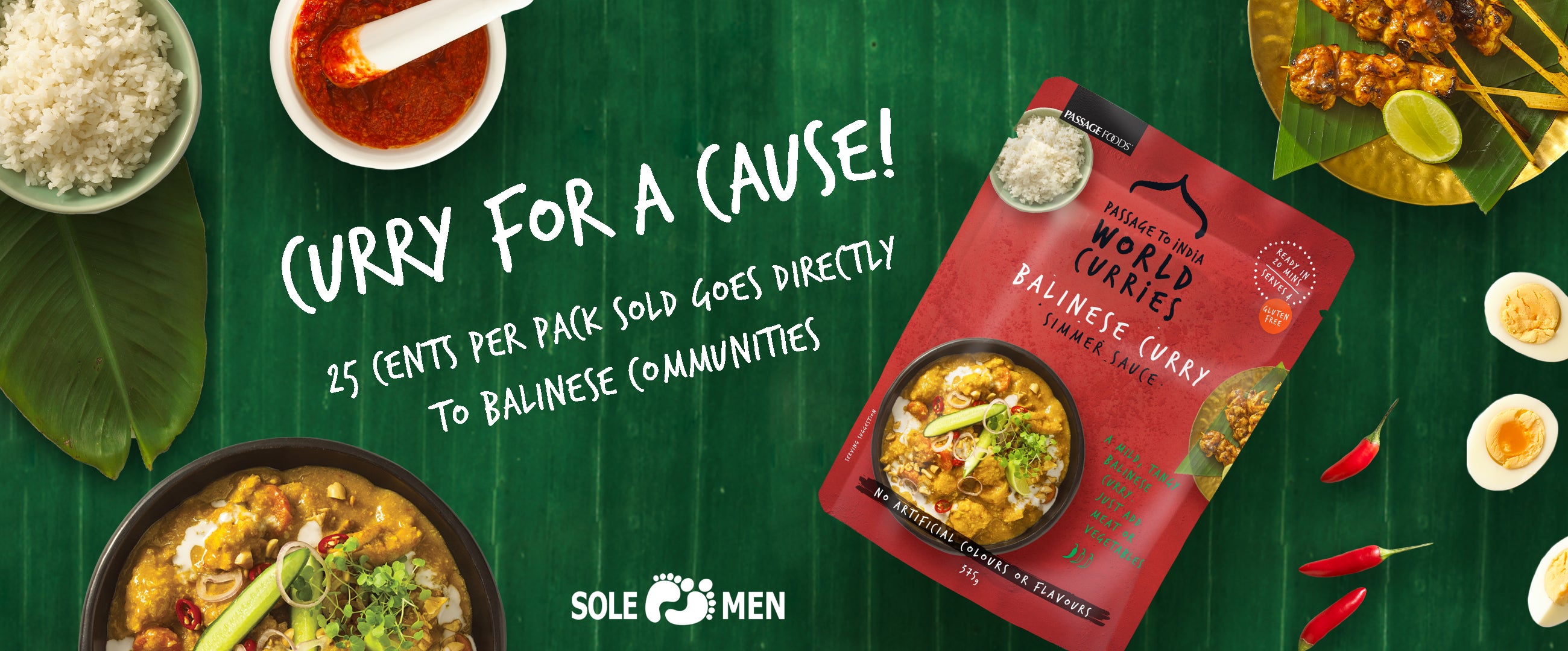 Curry For A Cause
2020 wasn't a great year all around the world, but our neighbours in Bali are doing it extra tough even in 2021. Their economy, built on the dollars of visiting tourists, has been all but wiped out. On top of that, Covid-19 is running rampant in regions with poor medical resources and support.
We wanted to find a way to help – and we have! We're excited to introduce the latest addition to our World Curries range: our new authentic Balinese Curry simmer sauce. 25 cents per pack from sales of our new curry will go to the Yayasan Solemen Indonesia Foundation to enable them to continue their efforts to help disadvantaged individuals and families in Bali.

BALINESE CURRY SIMMER SAUCE 

Our new authentic Balinese Curry simmer sauce has a mild and tangy flavour. It's made with a rich tomato base and a delicious blend of aromatic lime, ginger and garlic. Enjoy it with your favourite meat and vegetables as is, or make it creamier by adding coconut milk. Just like all of our stir-fry and simmer sauces, our new Balinese curry is another Australian owned and made product made with no artificial colours or flavours and no added MSG – it's gluten free too!


Yayasan Solemen Indonesia Foundation is an Indonesian non-profit foundation that provides direct support and funding for the disadvantaged and 'diffabled' (differently abled)in Bali. Solemen's Outreach Programs benefit the poor, the disadvantaged, the homeless and the marginalised in Bali. The charity's goal is to alleviate the misery of extreme poverty by bringing hope and sustainable solutions to those who remain hidden from public view and are kept from easy access to medical treatment. Solemen actively reach people who fall through the cracks and are not helped by the existing network of charitable organisations and government programs.
Despite very often operating on a shoestring budget, Solemen's fast acting Outreach Team of volunteer doctors, nurses, therapists, nutritionists and social workers shoulder an ever-growing caseload of 'Solebuddies' (people under their care). Solemen provides effective and targeted help where it will have the most impact. Established in October 2010, Solemen is one of Bali's most trusted and visible charities and is endorsed by the Bali Government Tourism Office and the Bali Hotels Association.
With the economic impact of the virus affecting so many families, the charity has begun providing basic food packages which include rice, eggs, oil, powdered milk (where needed) and ingredients for Indonesian sambal (tomatoes, onions, garlic, chillies). Locally grown and sold produce is sourced where possible to support the village area's local economy. These packages are delivered to the villages where they are most needed. 

You can send Solemen a direct donation now to help continue this important work.

WHERE TO BUY
Our new Balinese Curry simmer sauce is available for purchase at Coles Supermarkets or online through Aus Pantry for $5.00 each plus postage. 
HELP US SPREAD THE WORD
Shop online for our new curry, cook up a storm at home, and share your creations on social media. Be sure to tag @PassageFoods and @Solemen.Indonesia in your posts along with the hashtag #curryforacause to spread awareness!